Are you teaching a French animals, or a French family unit to your French as a Second Language or FSL students? Teaching French pet names can be a fun addition to either of those units!
French Pet Names:
les animaux domestiques / les animaux de compagnie
How to teach French pet names?
Now that you know the names of common French pets, you may be wondering how to teach them! Here are some ideas:
1) Use a French Google Slides Presentation
I love this one because it includes an audio recording of each term! Because of this, this presentation is awesome for a sub tub. You can even share it with students to use as a study tool at home!
2) Students complete French Pet Names worksheets
I feel strongly that worksheets should NOT be overused in the second language classroom. However, it is VERY mentally draining to be constantly playing games, speaking and moving about the room. Sometimes you just need a quiet activity. This is where some simple French worksheets come in. I always love to include a word search in my booklets because they're so engaging for students!
3) Play Games!
One of my favourite games to play in the French as a Second Language classroom is LOTO. I especially love providing students to create their own LOTO boards because it provides another opportunity for them to practice their French pet names vocabulary terms.
Want a FREE French pets game sent straight to your inbox? Click HERE!
4) Digital Activities
Digital Activities are essentially worksheets on steroids! They are activities that students complete on Google Slides. The moveable pieces make them super engaging and fun for FSL students!
5) Project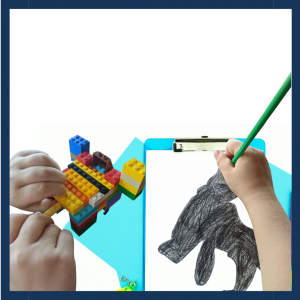 I try to provide students with at least one project during each of our French units throughout the year. This is because students find project based learning super engaging and fun. During the French pet names vocabulary unit, I love to have students create a model of their dream pet and present it to the class. Not only does this provide students with an opportunity to showcase their artistic abilities, they also get an authentic oral language opportunity when they present their models to the class.
6) Assess!
It is important to be assessing students' understanding of French pet names throughout the unit. However, a quick digital quiz at the end of a vocabulary unit is a great way to summatively assess students' understanding. The reason that I love digital quizzes is because they're self marking! Because let's be real… I have WAY more important things to do than mark 100 quizzes.
Freebie
Don't forget to grab your FREE French Pets Vocabulary game! Click HERE to have it sent to your inbox.
Need some more teaching ideas for French beginners? Click HERE to read a blog post full of engaging ideas!