Have you ever asked the question: How do you teach French animals? If so, you are not alone! That's why today I am sharing more than just some French animal worksheets or a French animals song. This blog post outlines 6 easy steps for teaching French animals so that your entire FSL or core French unit can be planned and ready to go.
This unit was designed to accompany the Alberta Grade 5 FSL Unit – Our Friends the Animals. However, it's general enough that even if you don't teach in Alberta, this could totally work for you and your kiddos.
Need ideas for teaching French Pet Names? Check out THIS blog post.
Teaching French Animals Step 1: Introduce animal names to students through fun songs!
Songs are a great way to introduce new vocabulary because you can play them during transitions, independent work time, etc. Plus, students happen to LOVE listening to these fun songs!
Avec un Gros Nez:
I seriously LOVE this video because not only does it help get students into the " les animaux " groove, but it also provides a fantastic introduction to the ways that we describe animals and their physical traits!
Petit Poisson:
This song is a classic (yes I learned this song back when I was in Kindergarten!). It is a fantastic way to introduce students to the French names of animals in the ocean. At first, I thought it might be a bit too young for fifth grade, but kids of all ages seem to love this one.
Alouette:
Finally, Alouette is a great way to remind students of the French body parts that they learned in grade 4! Hopefully, they will remember this one and it will be super fun for them 🙂
Teaching French Animals Step 2: Reinforce Animal Names with Interactive Notebooks
After listening to these songs, students will still need a lot of reinforcement of these new vocabulary terms. I love using interactive notebooks for this purpose! Interactive notebooks make note-taking more engaging, but students still get that repeated practice that they need. If you are looking for an interactive notebook to introduce students to animal names as well as animal traits, click
HERE.
Teaching French Animals Step 3: Take it up a notch with a Powerpoint or Google Slides TM Presentation!
I love to introduce key vocabulary using a PowerPoint or Google Slides presentation because it provides me with an opportunity to ensure that all students know the proper pronunciation for all of the terms. Plus the added visuals really help all learners to be successful. If you are looking for a Powerpoint presentation to help you introduce the physical traits of animals, click
HERE
to check it out!
Best of all, this presentation comes with audio so even if you are new to French, you will still LOVE this resource! Plus, it goes perfectly with the interactive notebook above. Students can complete the physical traits mini-book while you walk them through this presentation.
Teaching French Animals Step 4: Play Games!
What kid doesn't love games? Games are your best tool in the second language classroom because there is instant buy-in and engagement when using them. Another way to use the presentation from above is to play a simple game of charades. One person stands with their back facing the screen so that they can't see which physical trait is being shown. Meanwhile, the other students act out the trait so that the guesser can get it right. Of course, they must only guess in French!
One of my other favourite French games is "J'ai… Qui a?" This simple card game is quick to play. Students get an opportunity to practice reading French and their oral language skills! If you are looking for a set of "J'ai… Qui a" cards, click
HERE
.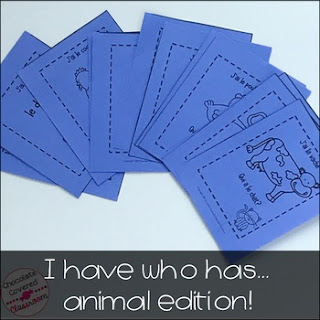 Teaching French Animals Step 5: Review with Digital Activities
Digital activities are my new lifesaver! They require practically no prep, are engaging, and are super effective! Students can practice reading and writing in French, all on their devices! Check out these "Les Animaux" digital activities
HERE
to see what all of the hype is about.
Teaching French Animals Step 6: BOOM Cards
BOOM cards are digital task cards that are self checking and interactive. They are always a HUGE hit with students because they're so fun. Want to check out these French animals BOOM cards? Click HERE!
Teaching French Animals Step 7: Assess Student Understanding with Fun French Animals Projects
I always suggest doing at least one group and one individual activity per unit. This way, students get an opportunity to work in both situations.
I like to do the group activity first. This provides students with the extra scaffold of working with and bouncing their ideas off of their peers.
In their group project, students will work together to design and create their own animal habitat.
1) Assign each group a habitat
2) Have kids brainstorm animals that live in that habitat
3) Students each build at least one animal to go in their habitat
4) The group builds a habitat for the animals
5) The teams create and present an oral presentation talking about the animals and the habitat that they live in
6) Students self-assess using a checklist
In their individual project, students will work to create an animal mash-up. Then they will do some writing about their animal and present it to the class. Finally, students once again perform a self-assessment. You can see my "mouval" below. Check out both of these projects
HERE. 
Teaching French Animals Step 8: Assess Students' Knowledge of French Animals Vocabulary Terms with a Quiz
I don't know about you, but as a teacher I am always trying to work smarter not harder. After all, I have a family to get home to! That's why I love to use digital quizzes. They're self marking! Which takes a TON of work off of my plate. Click HERE to check out this French animals quiz.
There you have it, a complete unit to help you teach about the world's animals, their physical traits, and the habitats that they live in. If you would like to purchase all of the resources mentioned in this blog post, check out my
Les Animaux
bundle on TPT by
clicking HERE.
By purchasing the bundle, you will save a bunch of $$$ and make your life so much easier!
Now you know how to teach French animals!