Here is a collection of the 5 must read picture books about Residential Schools. I have organized them in order of complexity. If this is the first time that your students have been introduced to Residential Schools, I suggest starting with book 1.
If you teach in Canada, you need to be teaching about Residential Schools. This horribly sad and violent aspect of Canada's history is so important to teach. In order to move forwards and create a better tomorrow, we need our children, our future, to understand our past.
Some schools may choose to read one picture book about Residential Schools to students each year, so that they continue to be exposed to this content. You could read book 1 in grade 1, book 2 in grade 2 and so on if that is something that you are interested in doing. Alternatively you could read one book a month or do a week long intensive study on Residential Schools.
If you click on any of the books below, the link will take you to Amazon Canada. They do throw a few pennies my way if you buy through my link so I do appreciate that!
1) Shi-shi-etko by Nicola I. Campbell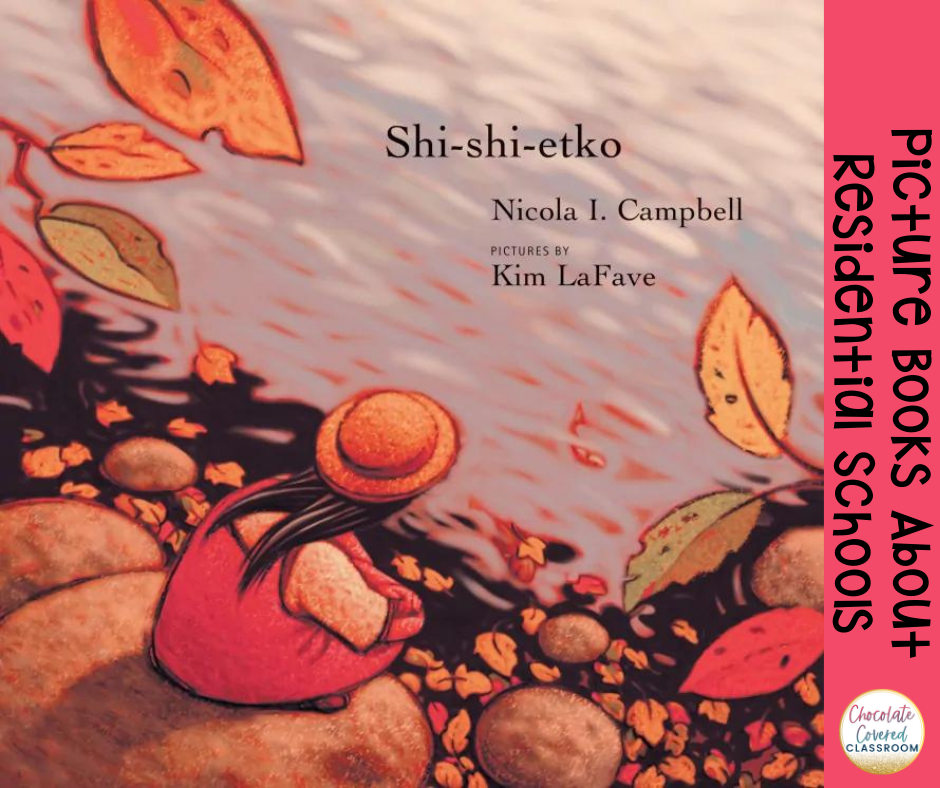 This book is about a little girl who will be going to Residential School. The story takes place during the days before she leaves. It highlights the importance of nature to her Indigenous culture. It also introduces some First Nations traditions. The story ends with Shi-shi-etko riding the cattle truck, on the way to school.
I am a strong believer in the importance of teaching students about what children's' lives were like before they went to Residential School. This is important so that they understand the full impact that this tragedy had on their culture and ways of life.
If you're interested in diving deep with this book, I have some great comprehension activities for you. These are best suited for students in grades 1-3.
I have included an awesome Read Aloud of this story below! This is done by Mayor Don Iveson of Edmonton Alberta.
2) When We Were Alone by David A. Robertson
This is a story about a little girl and her grandmother. As the little girl notices things about her grandmother and asks her questions, she learns about the hardships that her grandmother faced while attending Residential School. This book is best suited for students in grades 2-6. If you're interested in an interactive read aloud unit that accompanies this book, click here.
3) Shin-chi's Canoe by Nicola I. Campbell
This is the sequel to Shi-shi-etko and follows Shi-shi and her little brother Shin-chi as they spend the year at Residential School. This story delves into the horrific hardships that children experienced at Residential School such as not being able to talk to their siblings or use their Indigenous language. This book and my activities are best suited for students in grades 3-6.
4) When I Was Eight by Christy Jordan – Fenton & Margaret – Olemaun Pokiak-Fenton
This book tells the story of Olemaun, a little Inuit girl who attended Residential School. Olemaun is very easy to relate to and students will be able to make connections with her sense of perseverance and strength. The story is at times a bit scary because Residential Schools were scary places. This book works best in grades 4 and up. I have a ton of awesome comprehension activities available to accompany this book if you are looking to dive deep into the text.
5) I am Not a Number by Jenny Kay Dupuis and Kathy Kacer
This is the story of a young girl named Irene who is taken from her family and forced to attend Residential School. She suffers both physical and emotional abuse while at school. The "punishment" that she receives for speaking her Indigenous language is frightening which is why I recommend this book for grades 5 and up.
Next Steps?
Click here to check out the Indigenous Read Aloud Bundle in my TPT store which includes activities to compliment a variety of picture books about Residential Schools and Indigenous Cultures. 
Are you interested in learning more about respecting First Nations, Métis and Inuit cultures in your classroom? Check out this blog post about Respecting Indigenous Cultures and Ways of Life.