Even though school is always over by the time Canada Day rolls around, I still love to incorporate some Canada themed French activities into the final few days of June. I find that celebrating la fête du Canada is a really nice way to end the school year in the French as a Second Language Classroom. Keep reading to learn more about celebrating Canada Day in the FSL classroom and to grab a FREEBIE!
Throughout this la fête du Canada unit, students will study a variety of French vocabulary terms that describe Canadian symbols, money and animals by completing fun Canada themed French activities.
1) Canadian Symbols Vocabulary Presentation
Start with a Google Slides presentation in order to introduce students to the la fête du Canada vocabulary terms. Each slide includes a full-colour image and AUDIO!
This presentation works great as a supply teacher or sub tub activity because the audio is included so your sub doesn't even need to know how to speak French. You can also have students work through the slides independently from home for virtual learning.
The presentation comes with a student note-taking document that they can reference throughout the unit. This document also makes an awesome study guide.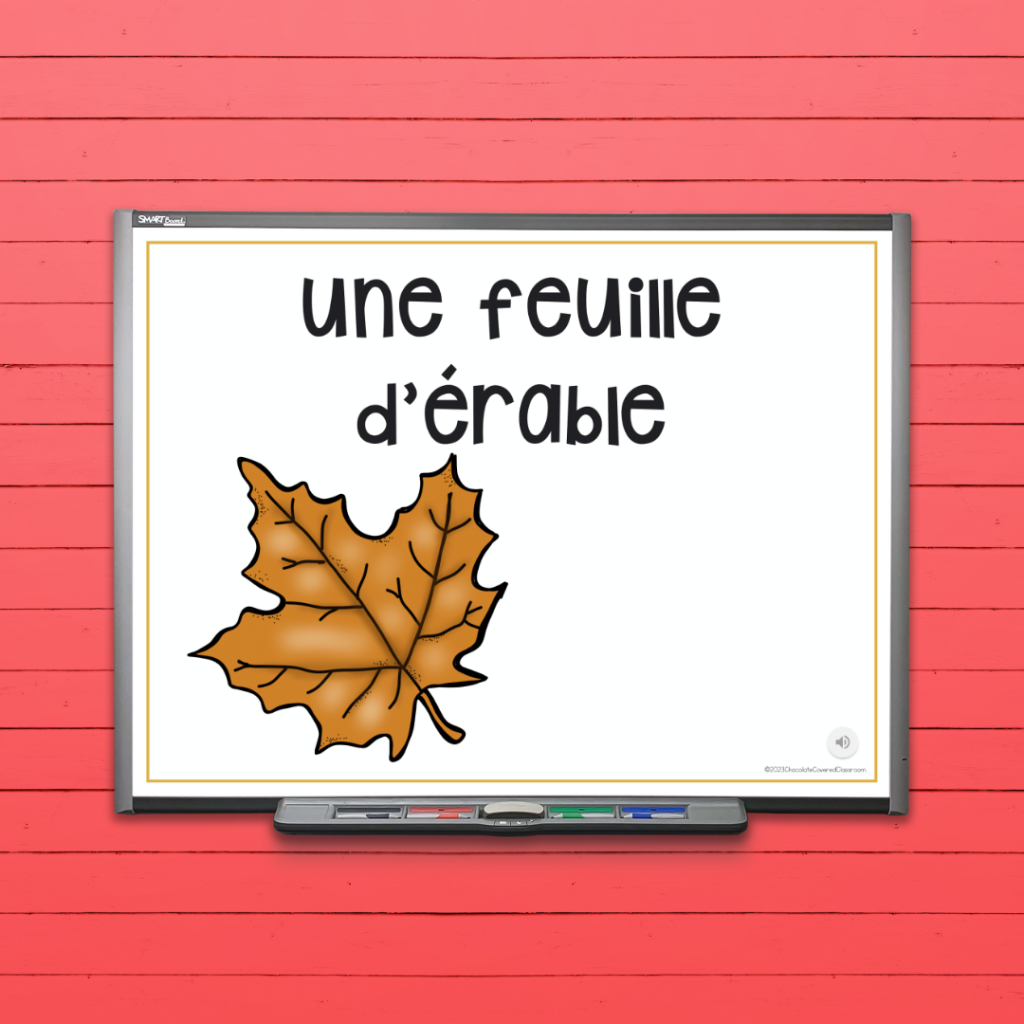 2) Printable Canada Themed French Activities
Need a simple print-and-go activity this June? These worksheets are your answer! 4 different French worksheet practice activities are included. Matching, Unscrambling the French Term, Colour by Number and Word Search. There is an answer key included to make your life even easier!
3) Digital Activities
Next, engage students with digital activities on Google Slides! These virtual worksheets have moveable pieces and are a ton of fun for students to complete. They are like worksheets on steroids because they are super engaging. Of course, there is an answer key included for your reference.
4) la fête du Canada writing activity
Next students will work on a French writing activity where they will complete a sentence and draw a picture. Students will reflect on why they love Canada.
5) French Canada Day Bingo Game
FSL students will enjoy reviewing their vocabulary terms by creating their own French Canada Day LOTO boards and then playing Bingo. Once students have made their boards, you can play this game over and over again throughout the month of June! It is truly a gift that keeps on giving.
6) FREE French Find Someone Who Game – Canada Version
Click HERE to have a copy of this game sent to you for FREE! Your students will love playing this fun game. You will love that they will get a TON of French oral language practice and that the game literally takes 2 minutes to prep – simply print and go!
This free French game can also be used throughout the school year. Need a quick time filler? Is your principal observing your French class? This game is your answer!
7) French Canada Day Quiz
Finally, assess students' knowledge with the Google Form TM quiz. It is even self-marking!
So there you have it, a complete unit filled with awesome Canada themed French activities! Click HERE to grab the unit on TPT.
Want to learn more about teaching French as a Second Language? Click HERE to read my blog post that answers the question: What to Teach French Beginners?