As a second language teacher, I really struggle to find substitute teachers who are fluent in French. Most of the time, I need to book a sub weeks in advance. The problem is though, I never plan on getting sick.
Here are a few of my best tips for those days when you don't have a French sub in your Second Language classroom. Because even though we would like to deny it, sometimes we just NEED those sub plans!
Tip 1:
Have an
emergency French Sub Tub.
This way, if you wake up sick, it's not a mad race to find activities for your students.
But wait… what do I put in my Sub Tub?
Remember all of those activities that you ran out of time to do? Those activities that you were planning on doing until a last minute assembly came up? That extra vocabulary worksheet, crossword puzzle or colouring sheet? Put all of those copies into your Sub Tub. That way, all of those extra copies that you made won't go to waste! Best of all, even if your substitute teacher doesn't speak French, the kids should still be able to do these activities because it is all review. Interested in creating your own Sub Tub? Grab my FREE label
here
!
Tip 2:
Utilize
Student Leaders!
The main problem that I find with having a substitute teacher that doesn't speak French is that when the kids have a question, there isn't anyone there to answer it!
I like to solve this problem by using student leaders! Simply leave your sub with a list of names of students that are very strong in French. I like to ask students at the beginning of the year if they would be comfortable being a student leader as it is always good for them to know ahead of time! You can switch out your student leaders throughout the year as needed.


Need a badge for your student leaders? Grab a FREE copy of mine
here
!
Tip 3:
When all else fails, watch a
French movie or TV show
. The national film board of Canada has a French section. Check it out here.
There is also a paid version of this site. If you subscribe, you get access to other great shows such as television renditions of Robert Munsch classics! I suggest trying out the free version before committing. If you are out sick, simply leave a note for your sub with the links to the videos that you want the students to watch. I like to have my students respond to the videos that they watch with substitute teachers for a little extra accountability. You can find the response sheet that I use for FREE
here
. Simply print out a few class sets of the response sheet and keep it in your Sub Tub. Easy as pie!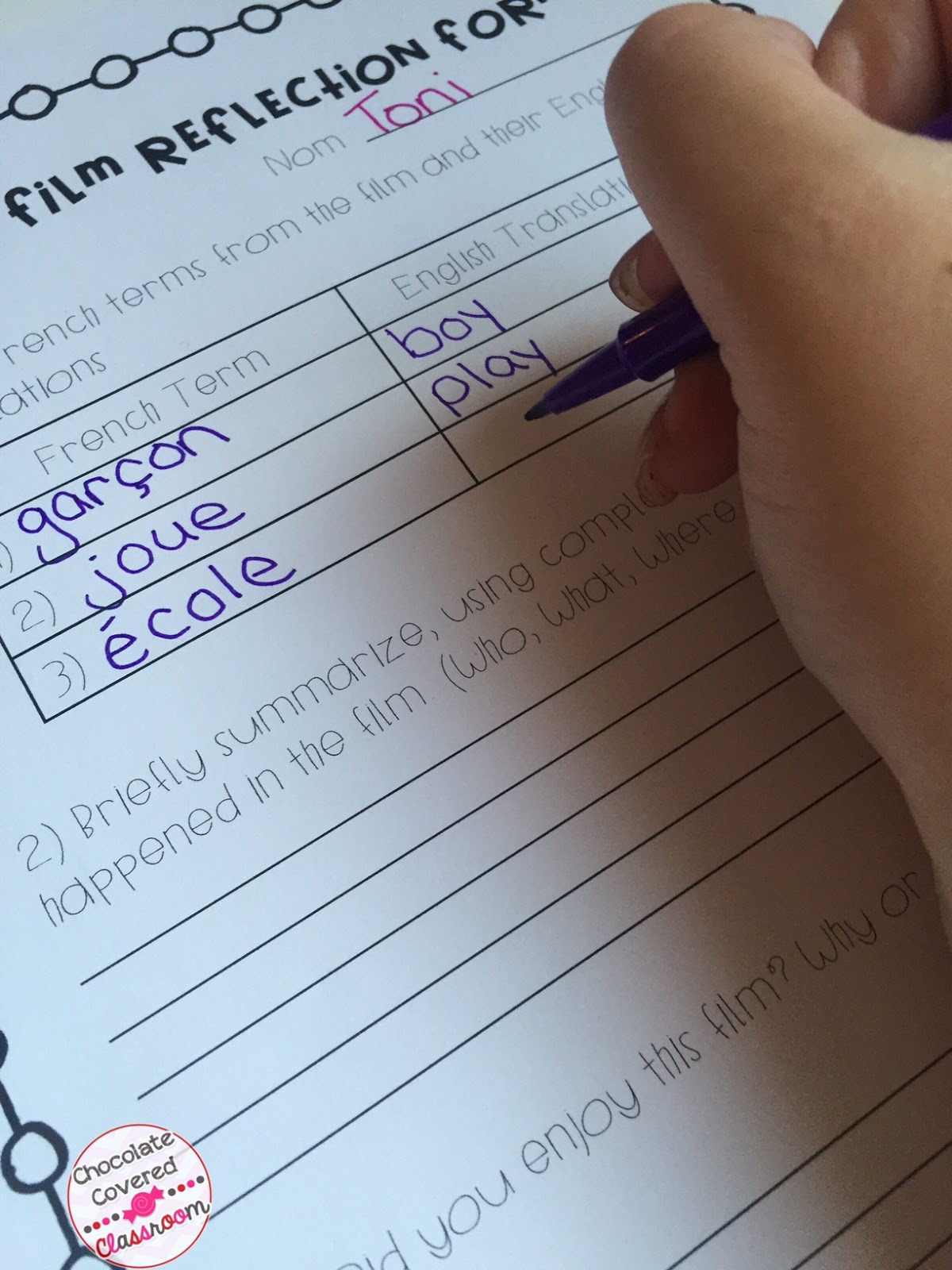 Tip 4:
Provide the substitute teacher with activities that have
sound built in
. That way, students are still hearing the French language but the sub doesn't have to do the talking! This is probably my favourite option because it allows you to continue moving forwards with your curriculum. You can do this yourself by creating small videos of mini French lessons. Then simply have the substitute teacher play them. Alternatively you can add sound to your PowerPoint presentations. If you are interested in some activities that already have sound built in for you, check out my FREE spring clothing vocabulary PowerPoint activity
here
.



Also, if you enjoy using the spring clothing PowerPoint presentation, I also have a bundle of all 4 seasons in my TPT store!


These 4 tips got me through the stomach flu last year and I hope that they prove to be as useful for you!
Don't forget to pin this image so that you can grab these freebies the next time you are sick!


What is your best French substitute teacher tip? Comment below!