December is my favourite month! Christmas carols, holiday parties and gorgeous decorations make for a terrific combination! 🙂 One of my favourite parts of this month is bringing a little holiday magic to my classroom.
My French as a Second Language (FSL) classes travel around the world to see how different countries celebrate Christmas. There is a French twist to this adventure as we focus specifically on how Francophone cultures celebrate the holidays. This gives the students the opportunity to notice the differences, but also the similarities of these unique cultures. It is one of my FAVOURITE units to teach!
To start off the"journey", each student gets a passport and a package of boarding passes.
Next we fill out our boarding passes! Students fill in the departure and arrival dates, cities and times. I even let them pick their own seats on the airplane. Many of my students have never flown on a plane before so this a fun new experience for them.
Once all of our boarding passes are prepped and ready, students make their way out into the hallway. I have them pretend to carry heavy suitcases. They pass me their boarding pass and I cut off the "airline copy" as they walk into the room, also known as the "airplane".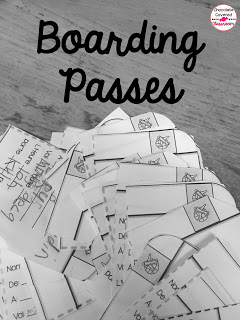 Once all students have boarded the flight, I play an airplane take off video on our SMART board. Students lean back and pretend that they can feel the flight lifting up into the air. I model the airplane take off dramatically because the kids find it hilarious.
The first stop on our tour is always Québec City. Once the plane lands, our adventure begins!
We start by watching this video. I have students record any Christmas traditions that they see on their scrapbook page. (Grab this page for free here!) Then we have a discussion about the different traditions that they saw.
Some possibilities include:
Santa Claus
Elves
Real Christmas Trees
Carols
Ice Skating
Sledding
Playing in the snow
Christmas lights
Christmas Markets
Church
Festival of Lights
Skiing
Outdoor Concerts
Fireworks
Next, we talk about traditional French Canadian Christmas foods. I like to provide students with samples of Maple Syrup pie and Tourtière. They then circle the statement on their scrapbook pages that describes how they felt about the dish. We also practice saying these statements to one another. For example, their exit slip for the day might be to say "J'aime la Tourtière". This is a great way to build oral language development into daily routines.
Note: I usually ask families to donate the treats.
Another important aspect of Christmas in Canada is the Christmas Tree! Did you know that Canada has 2 381 Christmas tree farms? To recognize the importance of the Christmas tree, we create Christmas Tree ornaments. Throughout this unit, students create a small craft for each country that we visit. I usually turn some of these crafts into ornaments and hang them on our class Christmas Tree.
If you are interested in traveling to Canada this Holiday Season with your students, check out this
FREEBIE
!
I also have the full blown product available in my store. The paid product includes visits to Canada, Switzerland, Belgium, Madagascar and France. You will also get boarding passes, passports and passport stamps for your students! Check it out
HERE
!
I hope that you enjoy bringing some magic into your classroom this Christmas 🙂
Have a sweet week and don't forget to pin the image below!